There are a number of ways to reduce the cost of installing a new furnace and that is to make sure you get the right brand name in the first place. Bryant has experienced air conditioning and heating experts who make use of the latest technology to create efficient and economical heating and cooling systems.
Choosing a reputable HVAC contractor is essential if you want to be satisfied with the performance of your furnace. The Bryant Legacy Line 92 Gas Furnace was designed and engineered to deliver up to 92% AFUE to ensure a quality product.
This gas furnace is efficient, durable and reliable, and once installed, will certainly not require you to get a new one in the near future. The Legacy line is all about solid value, energy efficiency and comfort control.
Features and Benefits
Up to 92% heat delivered into the home. Whenever you choose a furnace, the AFUE rating is an important aspect of a gas furnace because the higher the rating, the more efficient the furnace is, and the more savings you will have. The Bryant Legacy Line 92 Gas Furnace carries an AFUE rating which meets the Energy Star guidelines.
Cost Savings – Higher efficiency in gas furnaces may mean higher equipment cost but it also means lower utility bills. If you live in a chilly climate, you will see the cost of your gas furnace paid back through lower utility bills. Bryant consultants will help you work out your energy savings.
The gas furnaces all meet with Government Efficiency Standards – heating and cooling manufacturers have had to improve product efficiency and also use environmentally responsible materials – Bryant has complied and has developed high efficiency heat pumps, air conditioners and gas furnaces for the best products of tomorrow.
This furnace range offers a flame free hot surface ignition, which is safe and efficient, and is powered by natural gas fuel, and is convertible to liquid propane (LP).
A sealed combustion system eliminates drafts and also allows quiet operation by making use of outdoor air for combustion.
This range offers a single stage operation, slow opening gas valve for safe operation, and a self diagnostic ability built into the circuit board.
The furnace control boards allows for comfort and economy, and all that is required is that you set the compatible thermostat and the electronic of the gas furnace takes care of everything. With Bryant's range of dependable thermostats, wireless thermostats and Thermidistats™, you have total control over temperature, humidity, air treatment and timing.
Features two sets of Polypropylene coated heat exchangers for effective heat transfer.
Pricing – Bryant is renowned for producing above average gas furnaces in terms of quality and durability, especially when compared to other furnace brands. The prices of Bryant furnaces are a little less than Carrier systems of equal efficiency and size. Like most of the other brands, Bryant doesn't list their prices for consumers to see, selling its furnaces wholesale to contractors at a range of different prices, according to features and installation costs.
Specifications
Performance
In trying to find the best gas furnaces, you will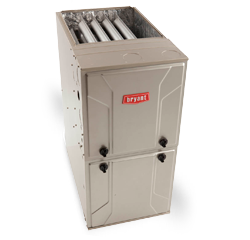 find several industry-standard efficiency ratings, bearing in mind that the higher efficiency your product, the lower your energy costs will be. Bryant have also designed and engineered the Legacy Line 92 gas furnace to deliver up to 92% AFUE to ensure a product which is energy efficient.
Furnace Controls
Controls Supported: Thermidistat, General Thermostats
On board Diagnostics
Technology
Capacity 40,000 – 138,000 BTUH
Blower Motor : Single speed
Primary Heat Exchanger: Serpentuff polypropylene-coated
Fuel: Natural gas, convertible to liquid propane (LP)
Design Profile
Profile: 4-way multipoise
Construction: Galvanized steel
Paint: Baked on urethane base coat and polyester top coat
Warranty
Some units come with a standard one-year warranty. For more information on warranties you can go to their website for more details. The Bryant Legacy Line 92 model is covered by:
10 year parts warranty
5 year on parts
20 year heat exchanger limited warranty
Make sure you register your furnace first to get the warranty and inquire with your Bryant dealer about optional labor warranties.